About US
Our goal is to help you get your story into print. It really is that simple.
As authors ourselves, we understand the frustration of repeated rejections from the big publishing companies and the elitist agents. It becomes a Catch-22 when you have to be a big name in order to get published and become a big name. We're here to eliminate that step and the potential heartbreak that accompanies it and put the power back in your hands.
We are not a "vanity publisher" who charges you as much as $15,000 to produce a handful of substandard paperbacks, just so you can hand them out to the relatives at Christmas and never sell another copy. We act as a freelance, subsidy publisher, getting you published and marketed both in paperback and e-book format on Amazon.com, Barnes & Noble, and other major online retailers. We also don't charge to get you published, we only charge a small fee for preparing your book. In other words, we are the middlemen, who do the work you can't, or don't want to.
You earn up to a 70% royalty rate with us, instead of the typical 5% - 10% that the traditional publishing houses pay. Traditional publishers don't charge an upfront fee, but they take 95% of the cover price, as their share, forever. And, they own your book.
We charge a one-time upfront fee, for all of the preparation, but allow you to keep 100% of the profits. Why should you do all the work and allow them to keep 95% of your profit? And the best part is, you retain 100% of the rights to your work, so if you ever want to take it elsewhere, you are free to do so!
Success comes to those who make opportunities happen, not those who wait for opportunities to happen. You can be successful too, you just have to try...
Chances are, you don't even know the difference between a PDF, mobi, ePub, doc, azw, or the fifteen other competing formats struggling to coexist on the sixteen types of e-reader devices such as the Kindle or the Nook. Even if you are able to keep up with all the devices and their formats, do you want to spend the money for expensive software to convert your files, or the many hours it will take to figure out how it works? Will you be able to create an interactive table of contents?
We are professionals with experience in computer science, graphic design and publishing. We can do the work or you, creating a top-notch book that you will be proud of. Of course, you still have to write it, but that's the fun part...
We will publish your fiction or non-fiction books about just about anything, including poetry, education, gardening, health, history, humor, law, medicine, pets, philosophy, political science, psychology, music, science, self-help travel, science-fiction, fantasy, mystery, thriller, children and young adult, etc....
Your book will be marketed on:
Amazon.Com, Barnes & Noble.Com, Abe Books, Books-A-Million, Alibris, Periplus, Bookingham Palace, Bangin' Books, Powell's City of Books, Booktopia, eCampus.com, Bookprice24.com, Russell Books, Biblio.co.uk, Tattered Cover Bookstore, Creation Bookstore, Mireva Online Bookshop, The Harvard Bookstore (Since 1932), Waterstone's Marketplace, Laurel Bookstore, Campus Book Rentals, Bookworld, The Drama Book Shop (Since 1917), Scripture Gift and Book Shop, Open Trolley, Vroman's Bookstore (Since 1894), Alibris For Libraries, Whale of a Tale Children's Bookshoppe, Cascades of the Rockies Bookstore, Rakuten.com, Angus & Robertson (Since 1886), Livaria Cultura, Flipkart.com, and thousands of other online retailers and outlets including bookstores, libraries, academic institutions, and wholesalers.
Countries of sale include: The United States, Great Britain, Ireland, Germany, France, Spain, Italy, New Zealand, Japan, India, Canada, Brazil, Mexico, Australia, Austria, Switzerland, Monaco, Luxembourg, Vatican City, China, Belgium, Singapore, Indonesia, and The Netherlands.
We distribute through Ingram, Baker & Taylor, Lightning Source, and NACSCORP.
We promote your work through our online network, including Facebook and Goodreads.
Authors receive one free copy of their book, plus unlimited half-price copies. If your book lists for $10, then you may purchase them from us at $5 each, plus shipping.
There is no limit. no minimum, and the offer never expires.
Richard S. Hartmetz
Chief Executive Officer
Richard Stephen Hartmetz was born on February 9, 1965, in Rochester, New York. He began writing at the age of six, and has never stopped. Author of 33 published books, he decided to form Starry Night Publishing, so that others would be able to get their work published, without spending a fortune and having to jump through hoops.
During his 29 year teaching career, Richard worked in the Rochester City School District, East Irondequoit (at Laurelton-Pardee), spent eight years at St. Margaret Mary School (in the Diocese of Rochester), and finished up at the School of the Holy Childhood, working with children with special needs.
While serving as Educational Technology Coordinator at St. Margaret Mary, he was responsible for creating and implementing a curriculum that presented computer skills to students in a Catholic School environment. He was also responsible for integrating homeroom activities into computer lab projects, data collection, assisting other teachers and aides with computer-related problems and running the school's Think Quest team and Chess Club. Additional responsibilities included creating and maintaining the school's website, creation of a school ad campaign, maintaining press relations and about 50 other tasks. Mr. Hartmetz also created and ran the school's haunted house.
"Mr. H." coached a record four winning teams in Oracle's International ThinkQuest Competition, helping to create websites on The Civil War, Presidential Facts, and United States Facts. One project, "The History of Aviation and Space Travel," placed first in the world, out of 7,000 students in 49 countries. He was honored with the Catherine McAuley Award for outstanding dedication and service, as well as receiving two citations from the Monroe County Legislature, one from the United States House of Representatives and one from the United States Senate. Mr. H. was also included in the Who's Who of American Teachers, and won a Garden of Distinction Award from the Irondequoit Beautification Committee. He is certified in First Aid, CPR, AED, and is an ordained minister.
He attended Pardee Elementary School, Norwood Middle School, Eastridge High School, Monroe Community College, SUNY Brockport, and Nazareth College of Rochester. Richard enjoys gardening, writing, reading, collecting coins, bowling, and spending time with his family. He is also a member of the Association for Supervision and Curriculum Design. He has an Associate's Degree in Computer Science, Bachelor's Degrees in Special Education and Psychology, a Master's Degree in Educational Technology, and a Ph.D. in Education. He also maintains a Certificate in Elementary Education, with an extension in Junior High Mathematics.
In addition to assisting others with the publishing process, Richard has written a series of books on "The Secrets to Writing Well," hoping that it will aide others in writing higher quality work. He has spent more time in Gettysburg, Pennsylvania, than most people who live there, and has a collection of Christmas decorations which includes 1,200 snowmen, 400 Santa Clauses, 200 nutcrackers, 75 elves, and 40 smokers.
He lives with his son, three houses away from his parents and brother, in a house the family has owned for more than a half-century.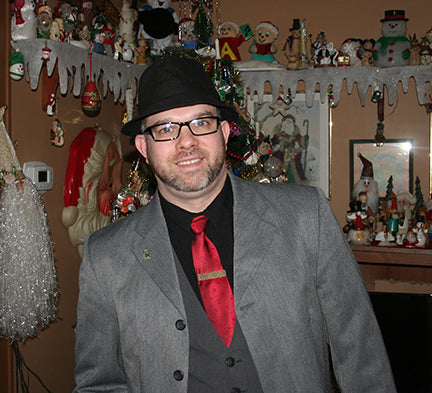 Chester J. Engert
Starry Night Video
Chester Jerome Engert was born in Brockport, New York on August 15, 1979, the oldest of three children. Shortly thereafter, his family moved to Rochester, where he remained for the first fifteen years of his life, attending School #33, School #12, School #23, School #19, and Monroe Middle School.
In 1994, he moved to Warren, Pennsylvania, where he attended Warren Area High School. He married Melissa Hill in 2003, though they are now divorced, and has two daughters named Chloe and Lily. He moved back to Rochester full-time in 2006, where he still resides.